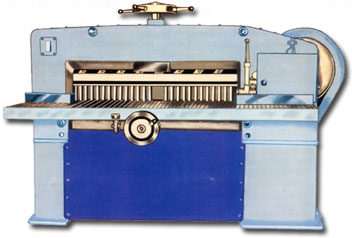 This sturdy and streamline totally enclosed type power operated HIGH SPEED PAPER CUTTING MACHINE is designed for accurate cutting op paper, Board and other similar materials. Hand clamping device is of rapid type equipped with cut thread spindle and gun metal nut.
SUSPENDED PENDULUM CUT : This is revolutionary new design in the operation of paper cutting knife. it minimise the wear and tear of the parts and gives long and trouble free life to the machine.
KNIFE : The knife is easily changeable & the displacement cannot take place under the severest pressure as the cross parallel groove in the knife plate provided. the knife in adjustable at the top by eccentric levers.
LUBRICATION: Centralised lubrication system through pipe line is provided for all moving parts. Grease cups are fitted at the shaft bearing.
BACKGUAGE: High speed and fine adjustment is provided to the back guage for accurate and parallel cutting, positive locking arrangement at the convenient point is provided to adjust back guage at all points and check locking.
MULTI DISC CLUTCH: Is of most revolutionary design, transmits positive sleepless drive with minimum maintenance.
BELT GUARD: Is provided to avoided any accident during operation of the machine.
LENS & LIGHT: Steel measuring tape can be read through magnifying glass, glare free illumination is provided for cutting line.
STANDARD EQUIPMENT: 1> Two paper cutting knives 2> Two Double ended spanners 3> One screw driver 4> One box spanner for knife 5> One plunger type oil can 6> Motor pulley, Motor stand, belt guard rear side gauge left and right and hand narrow cutting rake.
EXTRA: On request electrical auto measure gauge. and auto dab with motor or foot clamping
TECHNICAL DATA

33"

37"
42"

Width of cutting Table

840 mm = 33"

940 mm = 37"
1050 mm = 42"
Feeding Height
100 mm = 4"
115mm = 4 1/2"
120mm = 4 3/4"
Usable Table Length in front of cutting line
380 mm = 19 1/4"
508mm = 20"
525mm = 21"
Usable Table Length behind cutting line
815 mm =33"
940 mm = 37"
1065 mm = 42"
Motor Power required
2 H.P.
2 H.P.
3H.P.
Motor Speed
1440 RPM
1440 RPM
1440 RPM
Diameter of Pulley
130 mm = 4 3/4"
130 mm = 4 3/4"
130 mm = 4 3/4"
Diameter of Fly wheel
565mm = 22 1/2"
565mm = 22 1/2"
565mm = 22 1/2"
Cuts per minute
25 approx.
25 approx.
20 approx.
Smallest Reminder Strip
3/4" = 19 mm
3/4" = 19 mm
1" = 25mm
Approximate weight
1400 KGs.
1600 KGs.
2000KGs.
Floor space required (approx.)
64" X 64"
70" X 70"
78" X 78"
(1630 X 1630mm)
(1780 X 1780mm)
(1980 X 1980mm)