Unmatched Expertise
More than 40 years of In-Market Expertise
Current CEO and Managing Director, Mr. Hardip Singh Arora, has been spearheading the business for a golden period of 40 years. His knowledge as regards this field is immense and he humbly says that he is "still learning". With his age and experience he adds credibility to our business and the 'X-Factor' to our success.
Also, the PARTAP product line is vast and each individual line has its Unique Selling Point (USP). In response to expressed purchase intent, our experts would assist you why "Partap" is the right place for the printing and packaging related solutions that you are seeking.
Network Synergy
Our proud clients turn into our referrals that help us draw in more business year by year. We, in turn, also promote client products and form synergies that make business a 'win-win' for all contacts and ourselves.
Business with us would mean direct entry and access to our ever expanding client web. This way we can leverage your contacts while you can leverage our credibility in case of future business opportunities that come your way through our contacts.

Innovative Solutions
In keeping with its position as a proven leader, "Partap" promises to stay on toes with technology in manufacturing of printing and packaging machines. Our Managing Director and experts make regular international trips to update their 'know how' on latest technology and keep pace with R&D around the world. With a firm belief in continuous improvement Partap upgrades systems and offers innovative solutions in order to stay ahead of the changing industry requirements and reach a higher echelon.
Our satisfied customers are a testimony of the quality products and services we provide.

Established Client Trust

At the Global Front

Since 1996, we have been exporting products to many parts of the world. We have a satisfied client base in Jeddah, Kuwait, Muscat, Riyadh, Middle East, Malaysia, Singapore, Canada, South & East Africa. We have built long term supplier association with some highly valued clients from Dubai and Oman. On special requests, we provide demos of our products via video streaming. Also, we are open to sharing our clientele information on order placement.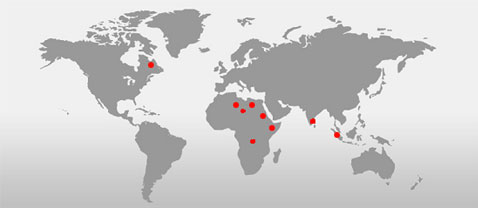 The Indian Scenario

We are associated with the biggest names which manufacture packaging material for the finest brands under the FMCG, consumer goods and other markets in India. We are open to sharing our clientele information on expressed purchase intent.

Most of Indian Government printing presses, Central & State Government Departments, Atomic Energy Departments are also operating Partap range of products.

Service with a Smile

Partap wins clients by not just providing optimal quality products but also by extending customized and time-efficient services. The testimony of our services would be the appreciation and support we receive from our existing clients.

Additionally, doors of Partap are always open for potential clients seeking expert advice related to paper printing and packaging queries.