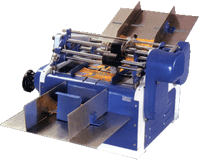 Partap make high speed stacking label / pouches cartons coder for registered printing on various type of label, pouches, laminates etc.
Features:
Automatic Feeding, Quick & Perfect Adjustment, Easy Control, Accurate Registering Uniform Impression, High Output 250 Labels, Pouches & Cartons / Min.
Automatically Labels, Pouches & Cartons stack and picks up by rubber friction insert, feeds to timing chain at very high variable speeds.
Oscillating roller spread the ink evenly to the ink roller to obtain uniform printing at the exact desired location.
FOR IMPRINTING ON LABELS & CARTONS :
- Batch No.
- Mfg Date
- Exp Date
- M.R. Price
- Printing on plain, Laminated, Varnish Label & Cartons.
- Printing on Polythene bags also possible
SPECIAL SPECIFICATIONS :
Coder Model
SLC-200
SLC-300
Over All Dimensions
820 X 415 W X 490 H
870 X 765 W X 625 H
Speed
125, 180, 250 Label / Min
125, 180, 250 Carton / Min
Label Size
20 X 40 mm to 150 X 200 mm
75 X 250 to 325 X 175mm
Weight
Approx 75 Kgs
Approx 125 Kgs
Power
0.25 HP / 1440 RPM / 414V
3 Phase & Single Phase
0.25 HP / 1440 RPM / 414V
3 Phase & Single Phase